In the past few weeks we've thrown tons of goodies, new insights and BIG announcements at our readers. And we're just getting started!
At Mediavine, we're passionate about supporting publishers at every stage of their journey and being completely transparent along the way. We love letting you know what is coming, and it makes us happy to see you excited for all the awesome features on the way.
And of course, we enjoy throwing some surprises in there too! 😉 Before I share an exciting sneak peek of what we've been up to on the Grow team, I want to introduce myself!
Hi! I'm Amethyst Duke, Product Marketing Manager for Grow, lover of all things Marvel (sorry DC fans).
For the next few minutes, I'll discuss what Grow truly means for the publisher community and how our full service engagement suite is making unique strides in the content creation industry.
I hope you're sitting because … it's about to be, legend — wait for it — dary! LEGENDARY.
What is Grow and who is it for?
Grow is Mediavine's full service engagement suite designed to streamline the process for publishers to connect with their target audiences.
With ever-changing consumer behavior, it is even more imperative that publishers build relationships with their audience and stay connected to their ideal readers today.
Grow allows publishers to understand their audience, create content they crave and form deeper connections with their readers.
Grow is not just perfect for publishers but for their readers as well. Once your readers create a Grow account, they can unlock exclusive content, share and bookmark their favorite posts and — my absolute favorite — subscribe to a publisher's email newsletter.
There are so many action packed features to discover once you join the Grow community — it's everything your business needs to do MORE of what you love.
But let me not get too ahead of myself. Let's stay in the now!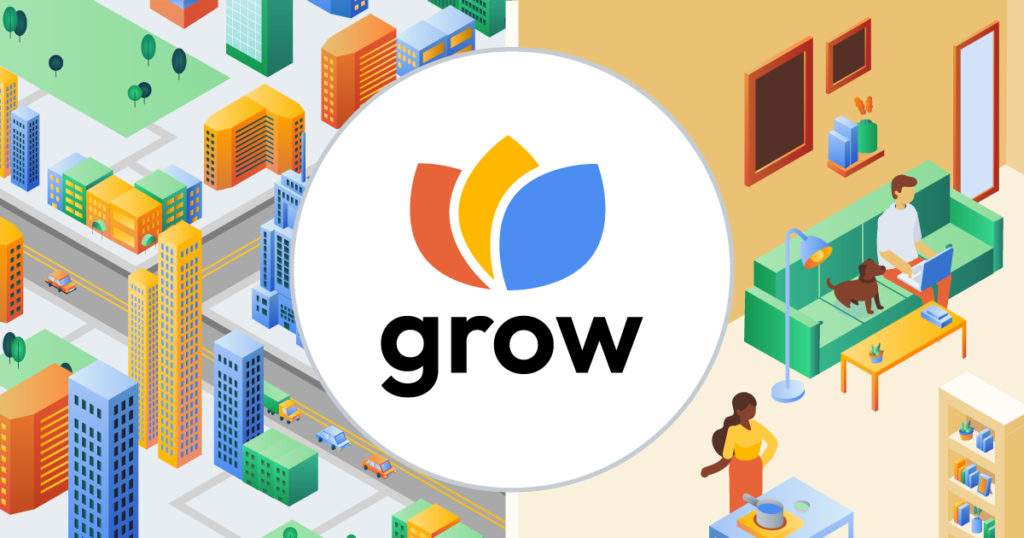 What are the current Grow features?
Our FREE plan is perfect for Mediavine publishers, first-time publishers and anyone who has never used an engagement suite before. We know getting started with a new system can be overwhelming, and Grow has tons of features that make life easier for our publishers and readers — isn't that the goal after all?
Below are a list of features (in no particular order) that are currently live in the market and ready for use as soon as you enable Grow in your Publisher Portal.
Spotlight Subscribe – lets you build your mailing list while encouraging readers to sign up for Grow and consent to personalized ads. Our latest integration with ConvertKit gives you the option to connect to your ESP so that new subscribers go directly to your email list. Since Spotlight rolled out, we've had 3.2M new newsletter signups across the board for those using the feature.
Exclusive Content – use this feature to lock full recipes, printables, digital downloads and more. Once the content is locked, a call-to-action will prompt a reader to sign up for a free Grow account, along with requesting their permission to add them to your email subscriber list and serve them personalized ads. After setting up Exclusive Content, our own internal sites began seeing over half of their subscribers come from Exclusive Content CTA's! One of our employees here at Mediavine enabled this feature and experienced a 500% increase in subscribers. Amazing!
Search – The new Search user interface gives your readers access to a homepage that breaks out your posts into most popular, latest, and recommended as well as highlights their bookmarks and recently viewed pages. And the best part? Publishers can also have a featured category pinned on their homepage!
Recommended Content – displayed to the reader based specifically on their browsing activity and is intended to match their interests to encourage further exploration on the site rather than just show more content on the same subject.
Recipe Card Integration – a prominently placed button in the recipe card will help encourage readers to save a recipe or how-to in their bookmarks list, which will also encourage them to sign up, authenticate and consent to personalized advertisements.
Co-Branded Sign Up – allows you to upload your site's logo so that it appears on the sign-up page a visitor sees when they create a Grow account through your site. This will signal to your readers that you are a part of the Grow community and can access their favorite articles and recipes with their personal Grow account.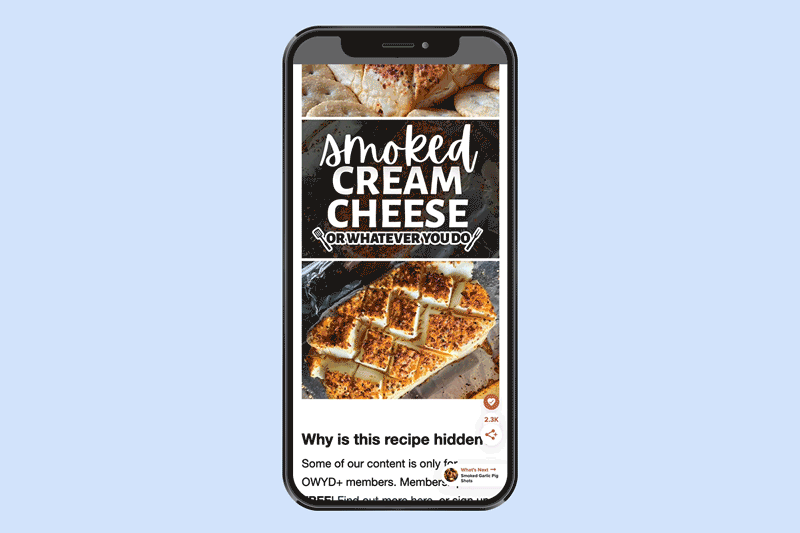 What features are coming soon?
We are always listening to your feedback and are so appreciative of you taking the time to share it with us via in-person chats or email.
Every bit of feedback is reviewed by our product team and is used to help us plan improvements and updates for the future. Truly.
We love letting you know what is coming, and it makes us happy to see you excited for all the awesome features on the way.
We have tons of new features headed your way before the end of the year. Are you up for a sneak peek? 👀
---
📍 Quick tip … the more details you can provide on how a certain feature will help you in your business, the better our product team can use that feedback when planning future updates!
---
New integrations to allow publishers to automatically add users to ESPs without the need for downloading and uploading a list or using an intermediary service such as Zapier.
The ability to set specific subscribe forms to appear on certain pages and categories to better integrate with your email automations.
Potentially expanding Subscribe to publishers without existing newsletters.
Continuing to add integrations into our other products, such as Create.
Entirely new products and experiences inside Grow that will further encourage subscriptions.
Learn more about the growth of your audience and more with Grow Publisher Portal Analytics.
And even more that we probably don't know yet! As always, we build things based on your feedback, so tell us what you want by emailing grow.me@mediavine.com!
Is it really free to join the Grow community?
Yep! Grow is 100% FREE. No hidden costs, subscriptions or charges. Grow is marked to lessen the everyday hassle of being an independent publisher so that you can save time, stand out and provide top notch content to your readers.
Can Grow improve my Mediavine income?
YES! A hundred times, YES! Grow removes the guesswork, maximizing ad spend on your blog so you can spend more time engaging with your audience and building on your strategy. As soon as Grow is enabled, you should start earning more revenue immediately.
With every user that signs in to your website and gives you consent to serve personalized ads, you'll automatically make more money with Grow.
What are the differences between Grow and Slickstream:
I know, I know — there are other platforms out in the market that provide a variety of features, but you're probably wondering how they compare to Grow. If you're more of a visual person, we've put together an easy-to-read table that breaks out the many reasons why Grow is the perfect solution for your publisher and readers' needs. Let's take a look.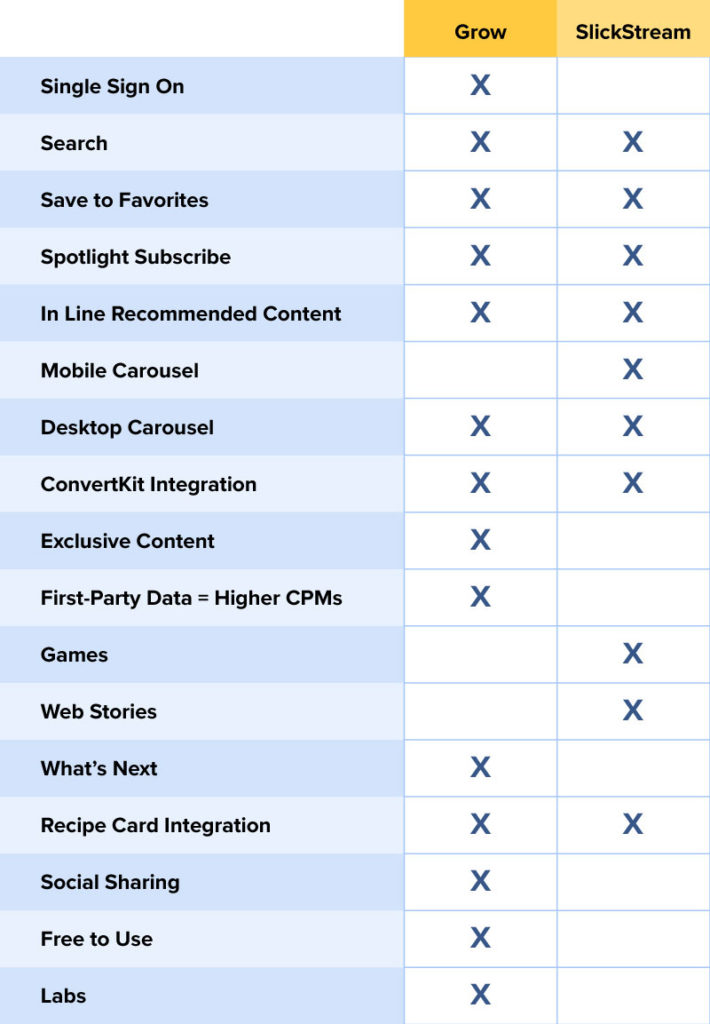 We're continuing to reimagine Grow with the goal of making it more powerful and easier to use for our publishers and their readers!
Getting Started with Grow
Now that I've laid all my cards on the table, what are you waiting for?! If you've read through the list of Grow features and thought "I need that!" then Grow has your name written all over it!
To get started, there are two different paths to enabling Grow as a publisher.
#1 Mediavine Publishers: Head to your Dashboard and enable Grow with one toggle. Go to Grow from the main navigation, Enable Grow at the top of the page and then click the Save settings button.
After you enable the setting, Grow is automatically loaded through the Script Wrapper and all configuration can be done directly in the Mediavine Dashboard. There's nothing to install and you're ready to get started discovering the latest features immediately!
#2: Non-Mediavine Publishers: We're expanding Grow in more ways than one! Think BIGGER AND BETTER. If you've launched or are even thinking about launching a new site, Grow is your solution! Don't wait to build traffic or spend countless hours researching how to engage with your audience. Use Grow as your engagement solution to capture your readers with exclusive content and provide personalized ads. We're always excited when new users join our Grow community — sign up here
Once you've enabled Grow in your account, have some fun — customize your branding, collect subscribers, build exclusive content for your readers and add in a few of your favorite integrations (e.g. ConvertKit).
Found a favorite feature? Well we're dying to hear about it! Tell us how important that feature is to you, and add some additional context by emailing us at grow.me@mediavine.com! The more we know about how you want to use a feature and what's important to you, the better we can make it!
If you're still not ready to take the leap just yet, that's okay! Head to the Related Posts section below to discover more details on Grow on how our innovative platform is changing lives within the Publisher community.
Thanks for stopping by! Until next time — your friendly neighborhood Product Marketing Manager 🕷