Happy Wednesday, Grow fam! How about some post-July 4th fireworks?!
We're here to announce another awesome Grow feature that we're excited about — our integration with Zapier.
Our Grow and Zapier integration gives users the ability to populate new subscribers (from Spotlight Subscribe) into their email service provider automatically. No more adding them manually.
This is a totally optional integration but one that we believe provides a lot of potential value for both publishers and readers. (Automatic, lightning-fast delivery of your opt-in goodies and welcome email sequences? Yes, please!)
Let's break it down below.
What is Zapier?
For those unfamiliar, Zapier is often described as a translator between web APIs, helping end-users automate the web applications they use.
With this integration, you'll be able to populate your email service provider (ESP) with any new leads (subscribers) generated from Grow's Spotlight Subscribe feature.
This allows users to connect their Zapier accounts to the Mediavine Dashboard in order to select Grow as a lead provider, set up a "New Lead" as a trigger event and select their ESP of choice.
Just choose them as the "Action" that you want to take after you gain a new subscriber.
Once you're connected through Zapier and a new lead is captured, the email address will be sent to the ESP and you'll be on your way to automating this process.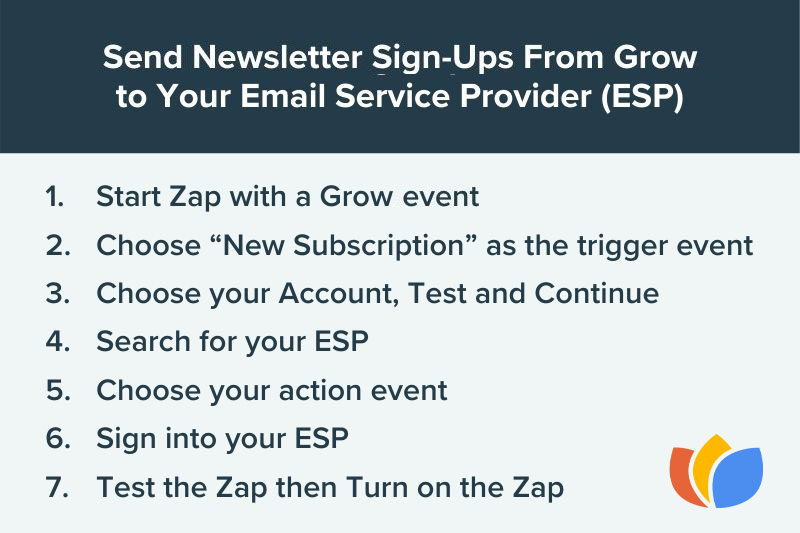 How Does Grow and Zapier Work? It's a Zap!
Fittingly, for a company called Zapier and a product that automates what could be a labor intensive process, this integration is powered by the creation of Zaps.
In this context, a "Zap" is a task that's part of a larger workflow that becomes automated.
Basically, Zaps are the connections between two applications. The Zap itself allows publishers to set up particular tasks.
Think of it this way: When a specific action happens in this application, I want this other application to take this particular action.
The first part is typically called the "trigger," and this is the event that begins the Zap.
The next step sets what action the Zap will take once it begins. Each action equals one task; you can have multiple actions in one Zap.
Pre-made Zaps
As of 7/7/21, many of our pre-made Zaps are pending validation. We will update this post as soon as they're good to go. In the meantime, you can set up a Zap manually.
If you're wondering how to get started, look no further! We created a few pre-made Zaps to get your automation started with the most popular ESPs.

With our pre-made Zaps, you can add new subscribers from Grow to Mailchimp, Convertkit, Flodesk, Mad Mimi or MailerLite. We created pre-made Zaps for other ESPs as well so you'll want to take a look at the Grow Integration Page for more details.
Once you're there, scroll down to where it says "Connect Grow.me to 5,000+ Apps" and click "Try It" next to the Zap you'd like to try.

If you don't see your email provider listed here as a pre-made Zap, but they have a Zapier connection, you can absolutely set up your own Zap!
Why Did We Prioritize Zapier?
Because Zapier has access to so many email service providers, it was the quickest way to get the most users up and running.
If you're using Convertkit, Mailchimp, Flodesk, Mad Mimi, MailerLite or one of the many other email service providers that Zapier integrates with, you're in luck!
What if I Don't Have a Zapier Account?
No worries. It's free to create one!
There are different tiers that you might be interested in upgrading to, depending on how many new leads you generate per month.
What if I Don't Want a Zapier Account?
Also no worries. This is a totally optional integration.
If you're happy manually uploading your CSV to your email service provider, you can continue to do so without making any adjustments to your workflow. Hooray!
Why Automation Rocks
As readers of internet content, we're all looking for instant gratification.
If I sign up to receive an opt-in of some kind (an e-cookbook filled with deliciousness or perhaps a helpful printable about what to pack for my Disney vacation) and it doesn't show up until a few days later, that's just not going to cut it.
Your readers could forget or no longer be interested by then. Speed matters.
With a Zap — the automation we're talking about — this won't be an issue as readers will start receiving your welcome sequences right away.
An automation like this also puts you in a great position to maximize the impact of any lead magnets, trip wires or other subscription enticements you have set up. And if you don't have any of those yet? This is the perfect time to get started!
Your audience won't miss a beat (or message) from you. Score!
(If you'd like to learn more about growing your email list, give a listen to the Growing a Newsletter List That Loves You episode of our Mediavine On Air podcast with the wonderful Regina Anaejionu.)
What's Next For Spotlight Subscribe and the Zapier Integration?
No one likes spoilers when watching the hottest new show, but with Grow, we're always excited to tease what we have coming down the pipeline.
Some upcoming features we're working on will tie in nicely to your newfound Zaps!
We'll be implementing a First Name field and the ability to support multiple widgets.
Currently, the Zapier integration won't support the collection of a name field or the ability to choose which widget triggers the email provider action.
Once we implement those features, we'll add them to our Zapier integration so you can collect a reader's name and have more than one widget running on your site.
Super exciting, right?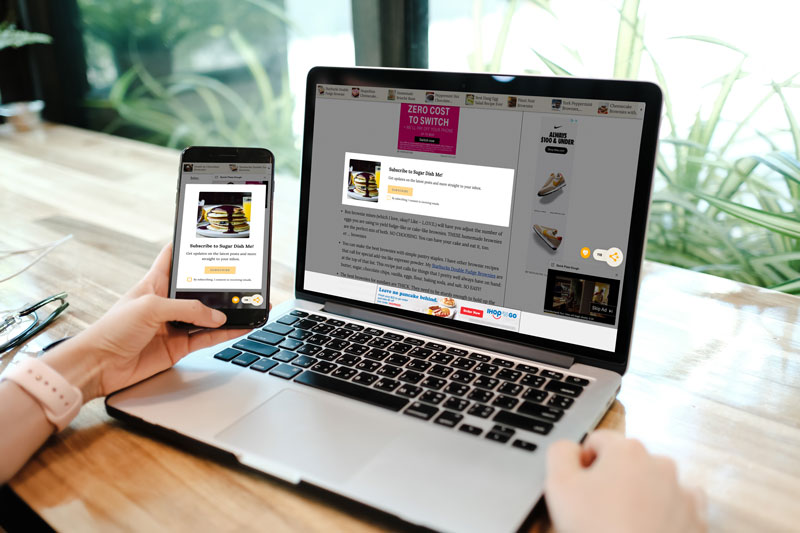 Not Running Grow?
What are you waiting for? You're missing out!
Not only do you get access to the Spotlight Subscribe feature and this new Zapier integration, but you'll also be years ahead of the game with the collection of first-party data.
By improving your audience's experience and authenticating as many users as you can, you'll be in terrific shape when Google phases out cookies for good in 2024.
Enable Grow and Spotlight Subscribe in your Mediavine Dashboard today!