One day in the not-too-distant future, we won't need to preface every blog post with this news, but today is not that day.
Soon, third-party cookies are going away.
Chrome, the last remaining browser to support them, is phasing out third-party cookies entirely starting later in 2023.
We've discussed at length the various measures taken by the industry to confront this new reality, most notably Google's Privacy Sandbox, but every announcement carries one major caveat.
What matters most are first-party relationships. That means you — the publisher — and the relationship with your readers.
Leif Lessons
Grow provides users with a single sign-on across the web. Banding together, just like we've done with ads, is integral to first-party relationship success.
We're launching Grow Subscribe and Spotlight so you can own the relationship with your readers and share with your fellow publishers! Win-win!
Subscribe lets you build your mailing list while encouraging readers to sign up for Grow and consent to personalized ads.

 Our integration with Zapier gives you the option to connect Grow Subscribe to your ESP, so that new subscribers go directly to your email list.

Spotlight Subscribe is an in-content call to action with conversion rates nearly three times as high as traditional methods.
If a Grow user is logged in on your website, they can consent to provide you with their email address with one click.
If a user is not signed up for Grow, we will ask them to sign up after they subscribe to your newsletter.
For now, email addresses are available for download in CSV format in your Mediavine Dashboard. More functionalities are coming!
Enable the Grow Spotlight Subscribe widget now in your Mediavine Dashboard.
In anticipation of the sea of change coming to the programmatic advertising ecosystem, Mediavine launched Grow, our end-to-end audience engagement solution, loaded with dynamic features designed to streamline the process of connecting, engaging and nurturing your audience relationships in one place.
Much like Mediavine revolutionized ad management for independent publishers by banding us all together to bring quality inventory to the marketplace at scale, we're doing the same with first-party data.
Think of it this way: As all of us build relationships with readers, we can join forces by giving them a single sign-in across all of our sites, sharing data as audiences move between different sites.
Banding together for the collective good is integral to everyone's success in this process, but at the same time, we recognize that each publisher should own the relationship with their audience.
That's what today's announcement is all about.
Mediavine is excited to announce the launch of Subscribe in Grow.
With Subscribe, publishers have the best of both worlds — build first-party data as part of a larger, collectively influential group while simultaneously building and maintaining their own relationship with readers.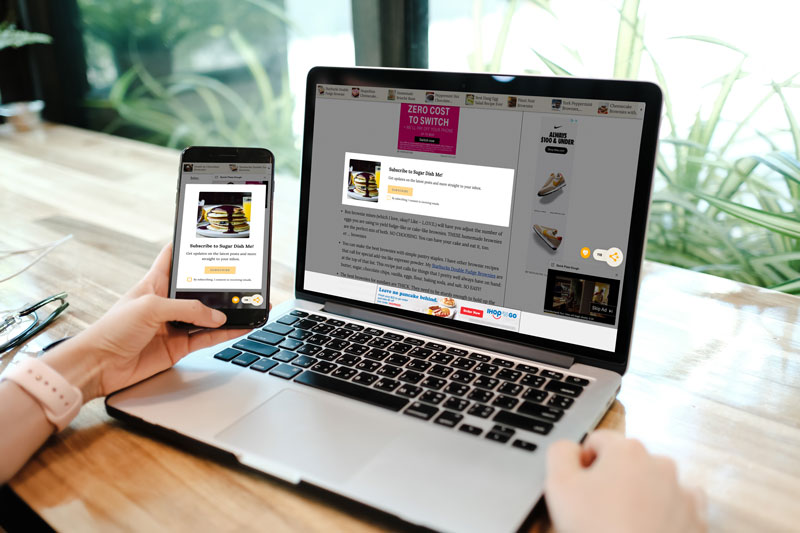 What is Subscribe?
Subscribe marks the dawn of a new era of Grow features designed to help publishers build and own lasting relationships with readers.
With its initial launch, Subscribe lets publishers simultaneously build an email list while also encouraging their readers to sign up for Grow and consent to personalized ads.
As a publisher, you will "own" the relationship in this scenario.
You'll have full access to the subscribing readers' email addresses with their explicit consent.
Want to know more about how that actually works and what it looks like?
Introducing Spotlight
The first feature of Subscribe is our Spotlight widget, a mailing list sign-up call to action that appears within your content.
When a user scrolls into view, it darkens the rest of the page, highlighting — or casting a spotlight — on the signup.
The user experience with Spotlight is a tremendous upgrade over the obnoxious pop-ups usually associated with this sort of tool, and so far we're seeing strong conversion rates as well.
While not quite at pop-up levels, they're still pretty impressive — much higher than traditional inline sign-ups — with many publishers reporting nearly three times the engagement from their old sign-up tools.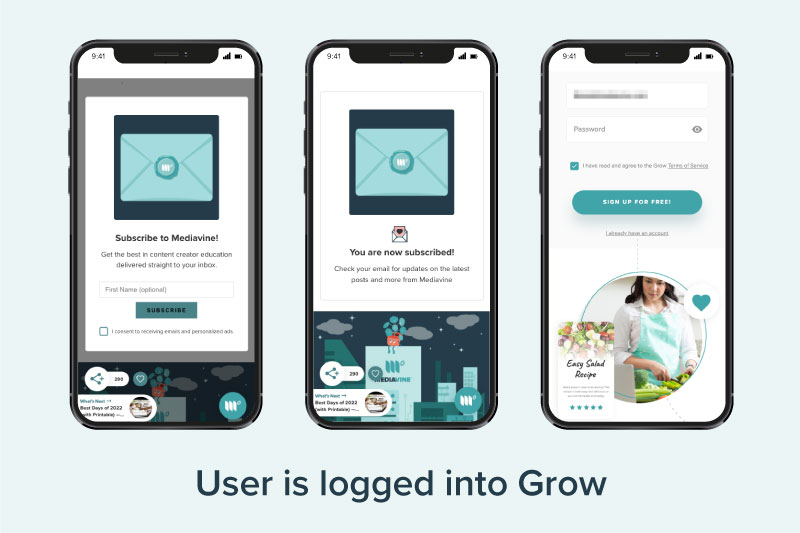 The reader experience
If a user is already logged in to Grow on your website, the Spotlight Subscribe widget is a dream come true from a publisher standpoint.
The user is simply presented with a checkbox to consent to personalized ads as well as providing your site with their email address and one button — Subscribe.
If they're already logged in, there's no need to even type out their address.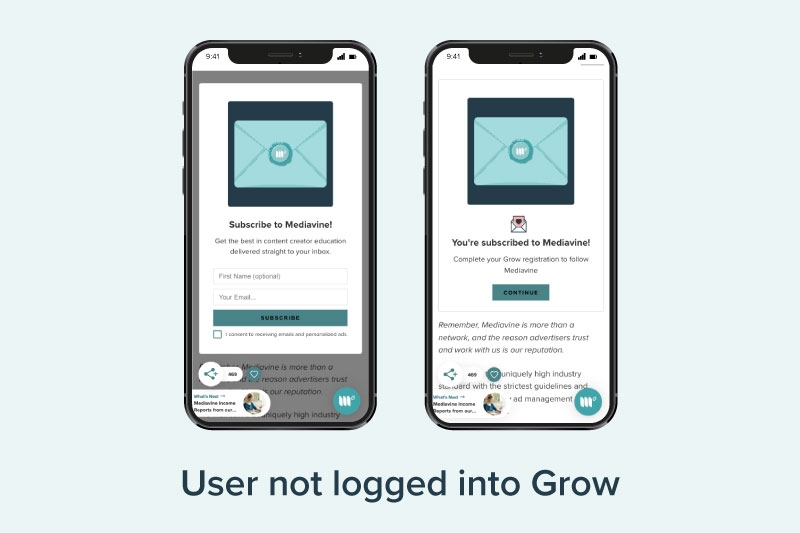 If a user isn't logged in, the initial Spotlight Subscribe widget provides an email field in addition to the Subscribe button.
Once the reader types in their email address and consents to receiving emails, you own the relationship and can add them to your mailing list with no further action required.
Then, we provide them with a second option — to sign up for Grow. We already have their email address, which makes the process incredibly simple.
So far we're seeing amazing conversions — over 22% of readers who sign up for the mailing list go on to sign up for Grow and consent to personalized ads. That's a very promising number, especially since it's early days for Subscribe and we haven't even started optimizing the feature.
Great, but how do publishers see those email addresses?
We're glad you asked! We provide two options for managing your new subscribers:
Manual list download: Once readers subscribe to your newsletter, their email addresses are immediately available for download in your Grow Publisher Portal.
Once you download the email addresses in CSV form, you'll be able to upload them to your favorite ESP (Email Service Provider). Once you download the email addresses in CSV form, you'll be able to upload them to your favorite ESP (Email Service Provider). If you've connected with your ESP via Zapier and/or in the Grow Publisher Portal, your list will automatically be uploaded to your email service provider.
Whether that's ConvertKit, Mailchimp, Mad Mimi or something we've never even heard of, the list is in your hands.
Then, the next time you download email addresses from your Grow Publisher Portal, it'll provide you with a complete view of the amount of subscribers you have for your site. This will make it incredibly easy to keep up with your list as it grows.
Zapier integration: Zapier is a useful tool that allows two applications to connect and exchange information. Zapier works smoothly with the most popular ESPs, and we've created integrations that you can tap into to automate adding new emails directly to your subscriber list.
Best of all, it's incredibly easy to use and set up (and we provide some shortcuts). Learn more about our Grow and Zapier integration here.
Click here for more information on how to download subscribers' email addresses and the Subscribe and Spotlight widget in general in our comprehensive help doc.
How do you opt in?
It's very simple to opt-in. With pre-filled defaults, simply enable the widget in your Grow Publisher Portal and that's it!
Immediately, you'll begin collecting email addresses and all-important authenticated traffic.
The Spotlight widget automatically places itself in an optimized location on the page and it's easy to customize the language as well. You can even include an image to better catch your readers' eyes.
Is it fast?
Do you have to ask?
Since the Spotlight unit is automatically placed in your content, we make sure everything is lazy loaded.
Leave it to Mediavine to build the first opt-in form that has little to no impact on your Core Web Vitals.
How much does it cost?
It's 100% free for Mediavine publishers.
As a co-registration form built to encourage readers to sign up for Grow, provide authenticated traffic and receive personalized ads, we believe it will more than pay for itself over time.
It will help you stay years ahead of the competition in this regard, so we're happy to provide the Spotlight widget for free to Mediavine publishers.
What else is coming?
Based on your initial feedback, we have a lot more cool stuff in the works:
New integrations to allow publishers to automatically add users to ESPs without the need for downloading and uploading a list.
The ability to customize and tag multiple widgets appropriately to better integrate with your email automations.
Potentially expanding Subscribe to publishers without existing newsletters.
Adding integrations into our other products like Create.
Entirely new products and experiences inside Grow that will further encourage subscriptions.
And even more that we probably don't know yet! As always, we build things based on your feedback, so tell us what you want by emailing grow.me@mediavine.com!
What You Need To Do
If you're already running Grow, simply enable the Spotlight Subscribe widget in your Mediavine Dashboard.
If you're not running Grow, what are you waiting for? Enable Grow and Spotlight Subscribe today.