This week we're continuing our never-ending quest to shape the content creation industry one feature at a time through Grow. 💙
But, before I jump in to deliver some exciting news, I just have one thing to say: If you haven't taken Grow for a spin — what are you waiting for?! While you're contemplating the answer to this question, we're continuing to make Grow even better!
A little over a month ago, we raved about our integration with ConvertKit. However, many of you were also curious to see if any additional email service providers (ESPs) were on our future roadmap. We get it. One size doesn't always fit all.
Thanks to your feedback, we've added not one, but TWO additional ESP integrations to our Grow library: MailerLite and Mailchimp. I hope you're sitting down because I can't contain my excitement much longer. Let's get into it. 🤜 🤛
Let's break this down…
If we're keeping score, I mean track, Grow has a total of THREE direct integrations with top requested ESP's.
Grow's MailerLite and Mailchimp integrations allow you to do more than just chat with your audience. With our MailerLite integration, you can add subscribers to your list and optionally add that same subscriber to a specific group. On the flip side with Mailchimp, you can add subscribers to an audience and also set subscribers to be added to a specific tag.
By supporting multiple actions per each individual Subscribe and Exclusive Content widget, the possibilities with your email list are endless. Ready for next steps? Let's keep going. ⬇️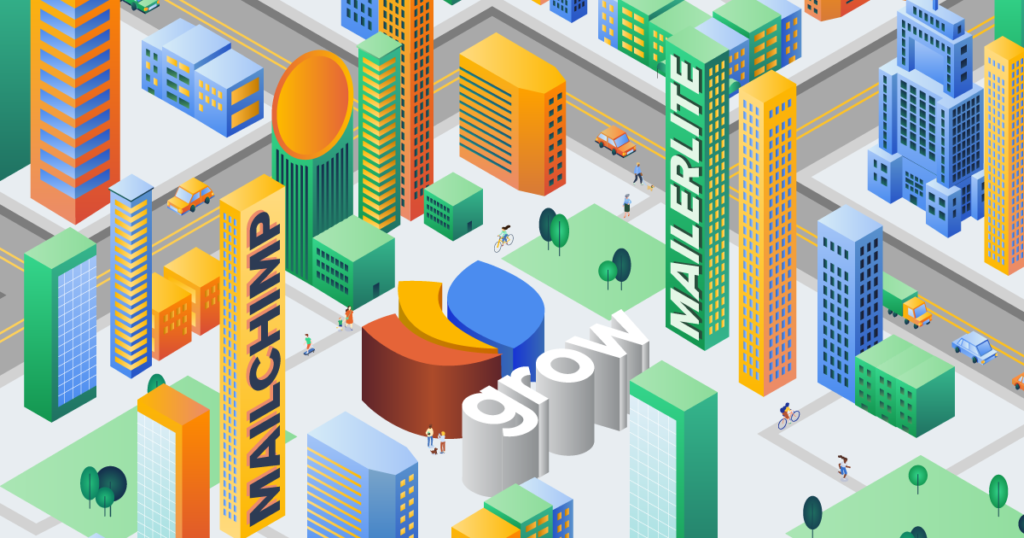 Enabling your ESP Integration
Now that I've gotten all of the juicy details out of the way, let's jump to the moment you've been waiting for, enabling your ESP integration.
I've provided links to our Help Center below that's packed with more details on how to enable the MailerLite and Mailchimp integrations.
How Do I Connect My Mailchimp Account
Where Can I Find My MailerLite Integration Key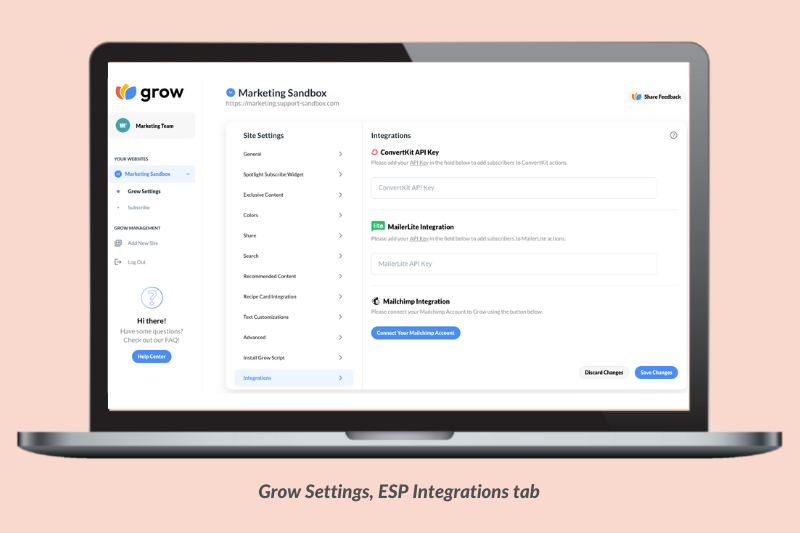 As third party cookies are scheduled to disappear, it is becoming more and more imperative to collect first party data to improve personalization of your email campaigns with your audience. Integrating your ESP with Grow is a great way to kick start this process. So, what's next?
I'll tell you! Use Grow's power packed features such as Spotlight Subscribe, Exclusive Content, and Pop Ups to drive your engagement and collect first party data. These three options are not only fantastic to have active on your site but they are even more useful when you're creating content that your audience craves. Don't rent, own your audience!
Join our Grow community
Let's recap! Grow now has THREE major ESP integrations with ConvertKit, MailerLite and Mailchimp. If we haven't gotten to your flavor of ESP yet, we've got Zapier! What's even more exciting is that we've consistently seen growth since our platform launched and it's all thanks to our phenomenal Grow super fans!
I don't know about you, but I'm always amazed by the work our Product and Engineering teams roll out each month. It literally has me on the edge of my seat with my hands over my mouth so that I don't spill the details too soon. If you're anything like me and share the same sentiments around new feature releases for Grow, stay tuned!
We have a few more major releases heading out the door before the end of the year. So, stick around, continue to share your feedback and let us know what you want to see next from Grow.
Thanks for stopping by! Until next time — your friendly neighborhood Product Marketing Manager 🕷